The end of last week was eventful. Friday night's cotillion practice was fun, even if it was only Nick, Carlos, Kay, and I who were around. Saturday morning's practice was pretty efficient. We finally finished all the dances, so I was relieved and happy.

Right after practice, I saw V For Vendetta with Friday night's gang plus Annmarie. I enjoyed it, good visual impression, yayayaddyya. It had too much of an underdeveloped plot though, and did scare me with its awful corniness at times. But anyway, I'm in love with Natalie Portman.

I saw Me and My Girl later that night. By the time it was over, I was so sick of hearing British accents after seeing it and Vendetta all in one day. But that didn't change my love for the entire cast who put on an amazing show. Everyone impressed me and lived up to what I could only expect from a Rahway High School show. (Congrats, everyone!)

Sunday was stressful. I went to bed Saturday at 4:30 am, but that didn't keep my mom from waking me up at 8:30 am. I had a photoshoot thing scheduled for my cotillion, after a practice hair and make-up run. WELL, my hair took forever to do, but it came out alright. What made me mad was that the idiot who was new at Benefit makeup called out that day, so I had to get referred to MAC.

MAC makeup is my fave, but I know the artists working there always wind up making you look like a clown. Despite my desire to, I witheld asking them to go light on the face paint. The result was a palette of purples all over my face. I wiped a lot of it off, my mom yelling at me for toying with my $75 (clown) look.

In the end, at the photoshoot I was pretty happy. The makeup still seemed too heavy for my taste, but eh. Anyway, Will took pics for him to photoshop. I have my own pics from my own crap camera.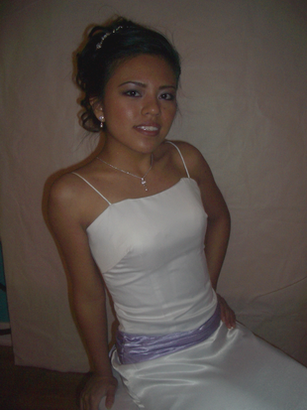 The wonders of having a flash on your camera.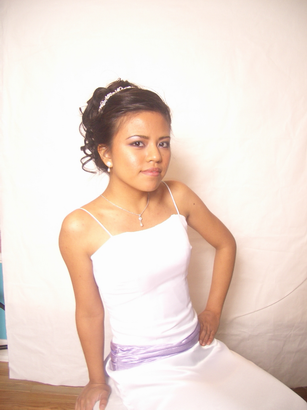 That night, I let my hair loose. And, voila. The glorious curls I only wish I had been born with appeared. I couldn't part with them, so I kept them for the next day. (By the way, I hate all of you who have pretty curly or wavy hair. Damn you all!)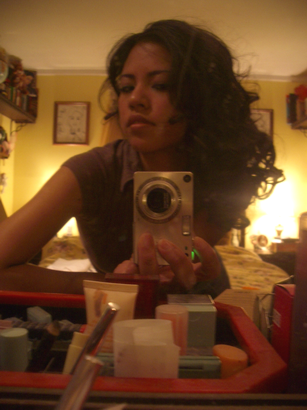 I got my lit novel essay back, and I am SOOOO relieved. Handing it in half finished with literally no conclusion, I was surprised that I got a 90. Thank God for copy/paste and the reading journal we did first.

Watching Heidi Chronicles this Friday. Cotillion practice this Wednesday and Thursday from 5-7. =)

Oh yeah, Kingdom Hearts II is out March 28. And I'm dorkily excited about it.



Later.